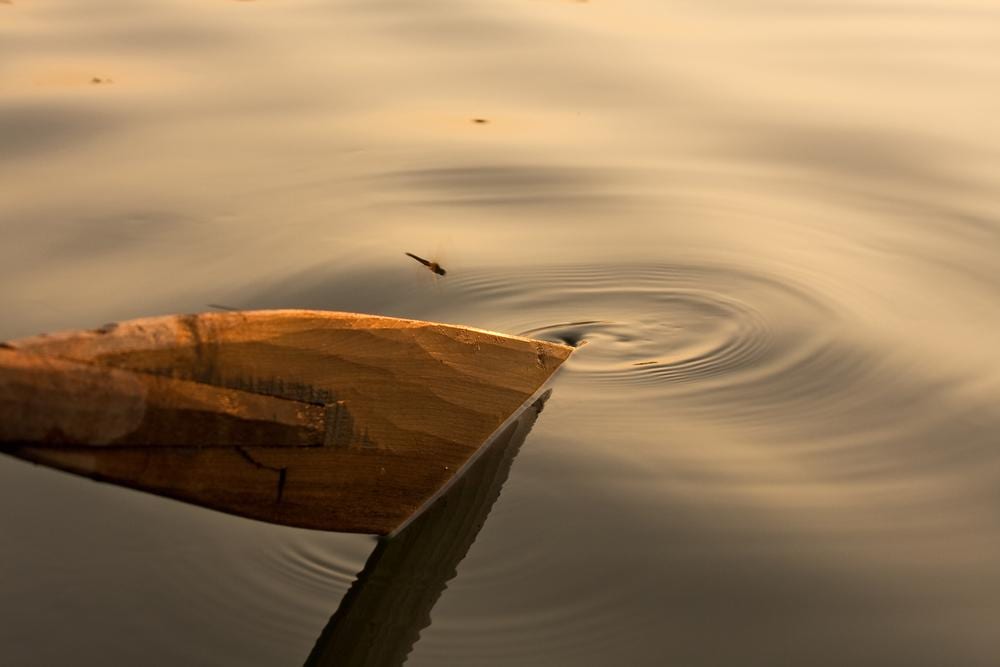 Once a year I make sure I take at least one retreat, or participate in one class that helps me evolve as a communicator, grow as a leader and stay sharp. In 2016 I applied for my county leadership program because I wanted to know what it was like for a group of leaders to find their swing, and surrender to a higher good.
That wasn't the only reason I applied, but that's what I want to reflect on today.
Intrigued, hopeful, present. Those are the words I would describe I felt going into the first weekend of Leadership Jefferson County.
Leadership Jefferson County, a program of the West Chamber Foundation, is designed to identify emerging leaders within Jefferson County, and help them develop their leadership potential. The program provides class members with a broader view of civic leadership through contact with people and institutions that shape Jefferson County. These emerging leaders are concerned about issues affecting the greater Denver area and are committed to involvement in shaping the future.
A group of leaders that all had to fill out a fairly extensive application just to be in the class, have made a commitment to bettering the communities they live in. These sound like my kinda people.
The first weekend we went on a class retreat.
During the retreat we got to know our classmates for the first time, and we split ourselves into groups several times to help us get to know each other, and better understand how we best work together.
It was during this retreat that I began planting the seed about outdoor community sharing boxes, something I would later find out I have a strong passion for. But I would also learn a strong lesson in surrendering.
Our Class Project
Our project had guidelines. We weren't supposed to do anything that another nonprofit was already executing, and it was supposed to benefit a community of people within Jefferson County.
Having grown up in small town Iowa and attended a liberal arts college, the advice I gave to high schoolers and students just entering college was to get and stay involved. Of all the memories I have of high school and college, the most memorable ones were groups where we were doing something to better our community or win a competition for our school.
We all wanted the same thing. To win the meet as a team, to qualify to compete at the next level, and to love on the community that provided us those opportunities and supported us in them.
To me the class project was where we would get to know each other, where we would connect, where we would find our swing. But in order for that to happen, we had to get a room full of leaders to agree on something.
Surrendering
We had a book that was the theme of our class called "The Boys in the Boat." It was a story about the American Crew team that defied all odds and won gold in the 1936 Olympics in Nazi Berlin Germany. There was a story in the book that described how when crew members are all rowing together in sync its like they are floating on top of the water. Each member of the boat can feel everything the man in front of him is feeling, and together they are a single unit.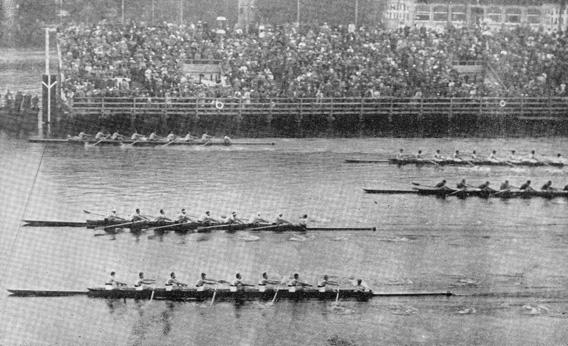 Each man in the boat trains ruthlessly, and to the best of each man's ability, rows in sync with the one in front of him.
Each crew member surrenders to the desires of the team. They have to surrender much more than that though to get there. Before the team can "find their swing" they have to endure every hour of every day together for many months and years.
Our leadership team didn't have that kind of time. We had to learn about each other's strengths, weaknesses and personalities in a hurry in order to come together and find our swing.
Finding Our Swing
There were certain moments during our project where I felt the swing. Invigorating.
Our class project was revitalizing a community garden at an elementary school near where I live in Arvada. At times the location of our project felt like the perfect storm. More on that later.
For our project to come together our leadership team needed to partner with another municipality, Foster Elementary which is part of Jeffco Public Schools. As it turns out, we had a communication expert on our team, Tanya Wheeler-Berliner, who happens to work for Jeffco Public Schools which gave us an "in." Tanya set up a meeting for leaders in our class to meet with the administration of the elementary school, and take a tour of the garden.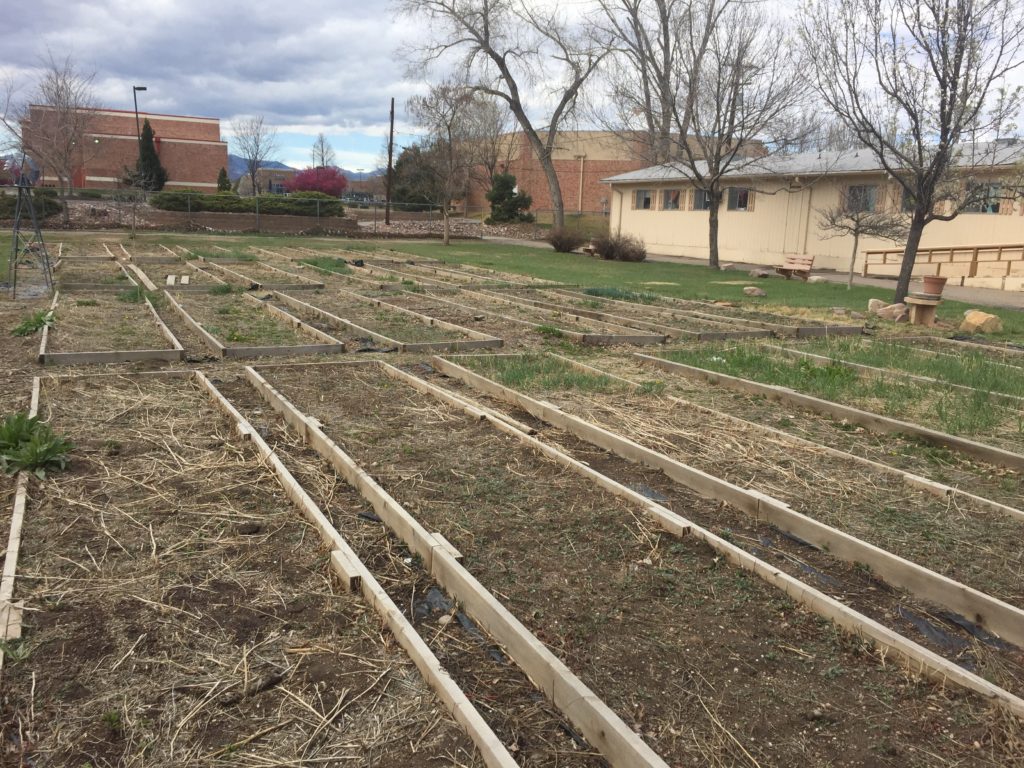 This garden was beaten up. It had not seen the love of the community in many years.
Day 1 – April 8th – Reframing the Beds
Brian Sassolino, director of parks and recreation for the city of Lakewood, drew the plans for a new irrigation system, a reworking of the beds, and the addition of new ADA compliant beds.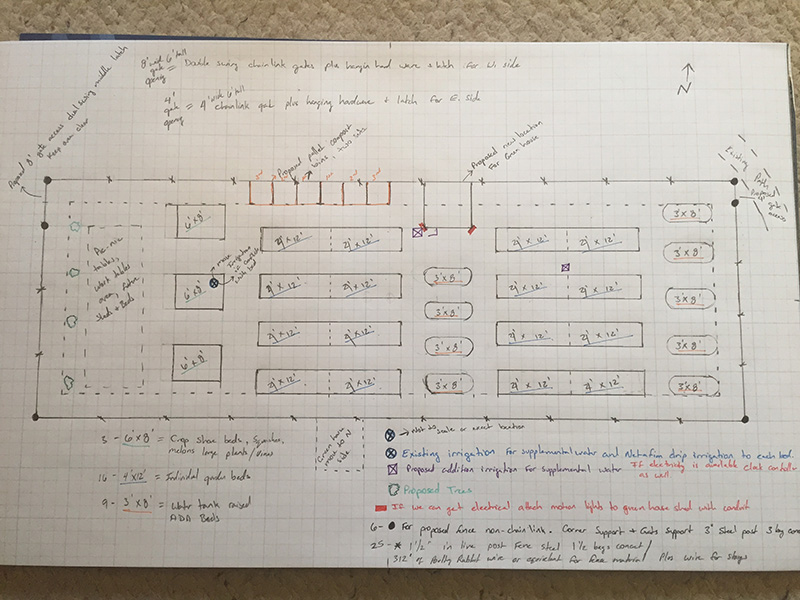 Today was the day the 9 new ADA troughs would be set and filled with sand, and the beds would be repositioned.
It was this day that I felt the swing for the first time.
Around 2/3 of our class was their for the first volunteer day. In addition to our class we had two groups of volunteers show up. Its safe to say with almost 100 volunteers working on the garden on day 1, this was something that not only everyone wanted, but something everyone wanted to be a part of.
So much work to be done, this is only day one, how much fire can a group have?
My perspective of the day was that while everyone in our class was working, we were also playing the role of managing the work being performed. We're all leaders, people are like magnets to us.
The first swing was when everyone arrived at the garden. It felt like a shotgun start. Fifteen classmates and another 30 volunteers courtesy of a local candidate running for governor, Mike Johnston.
Then it was lunch time. Hats off to the team that set up and provided lunch to everyone!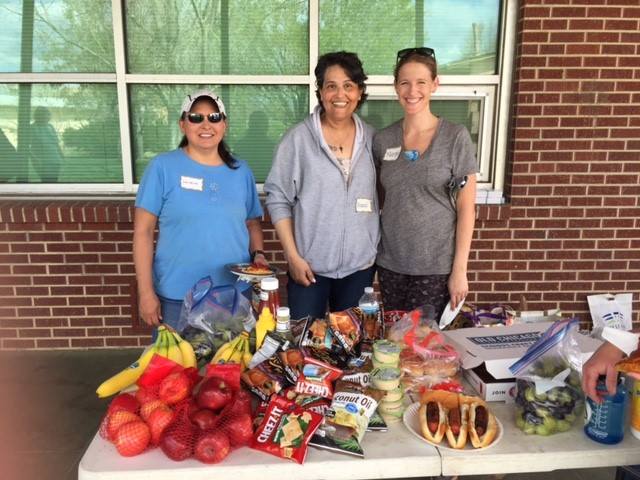 Even during lunch we still had people who didn't take a break and continued working.
Our class snapped a photo with the first crew, and went back to work for the afternoon shift.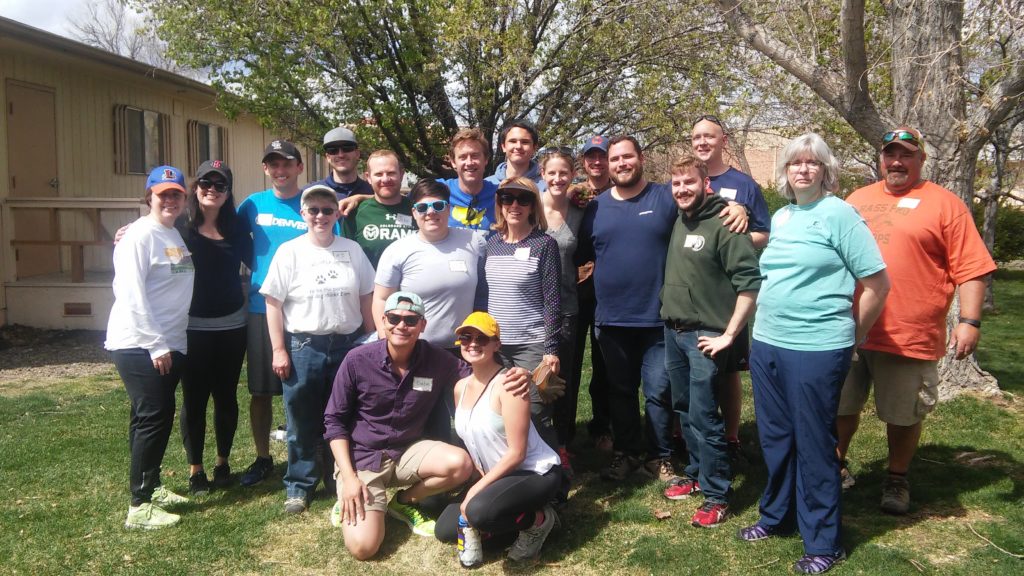 About twenty minutes into the afternoon shift a miracle happened. Tiffani Muniz, a classmate of ours who wasn't signed up to volunteer that day, shows up with another 25 volunteers.
"We are here to perform a miracle" she said.
Cue our second "swing."
Each of the volunteers from the newest group grabbed a shovel and started loosening the ground so we could place the reworked the beds. They worked hard and fast, performing a large part of the grunt work we needed done that day in less than an hour.
There was no social media, there were no photos taken of this group. They had one mission of performing a miracle and every single volunteer was in the same boat. Their team of volunteers came together in a huddle to break down before leaving, and almost without saying a word they were gone, leaving their oars for the next swing.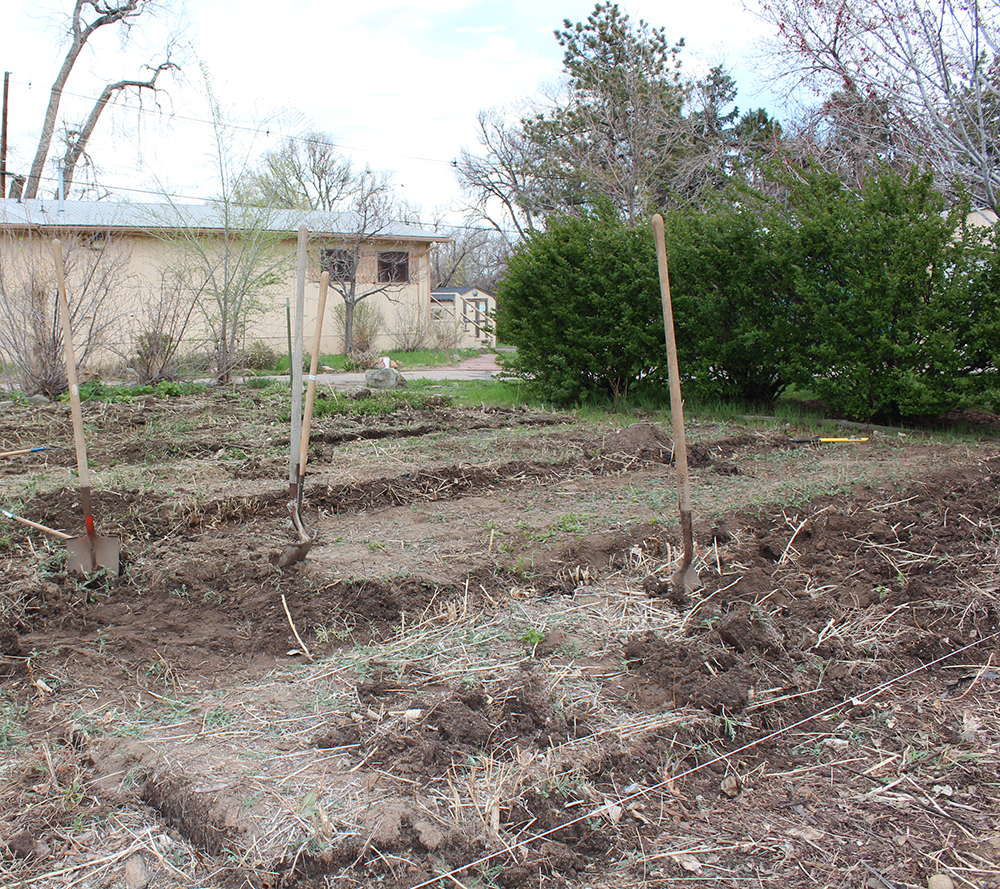 Then came the third swing that day.
Our class took a short break from the madness of corralling 70+ volunteers that day, as well as ourselves. It was only classmates and our families that remained at this point, around 2:30pm.
Little did we know we were about to initiate a swing of our own.
Armed with some heavy machinery and our trusty oars, it was time to level off the garden, and fill the repositioned beds.  I took the reins on the dingo, so my perspective of everything going on was from how the man in front of me was swinging.
Jeff Yeager, our project co-lead would direct me to the land that needed to be moved next. I would fill the dingo, then make my way to one of the new garden beds that needed it. Maneuvering the dingo, I had teammates around me the entire time directing me where to go, letting me know if I was positioned accurately as I dropped the ground into each of the new garden beds. Rinse and repeat.
As I'm removing ground and placing it in the beds our team is leveling out the ground on both sides.
We're floating on top of the water.
This third swing was a swing that was all our own. And it felt great.
The day came to a close, as we didn't want there to not be any work for the volunteers from the shift the following day to not have any work. We wrapped around 3:30pm, snapped a group photo and headed home.